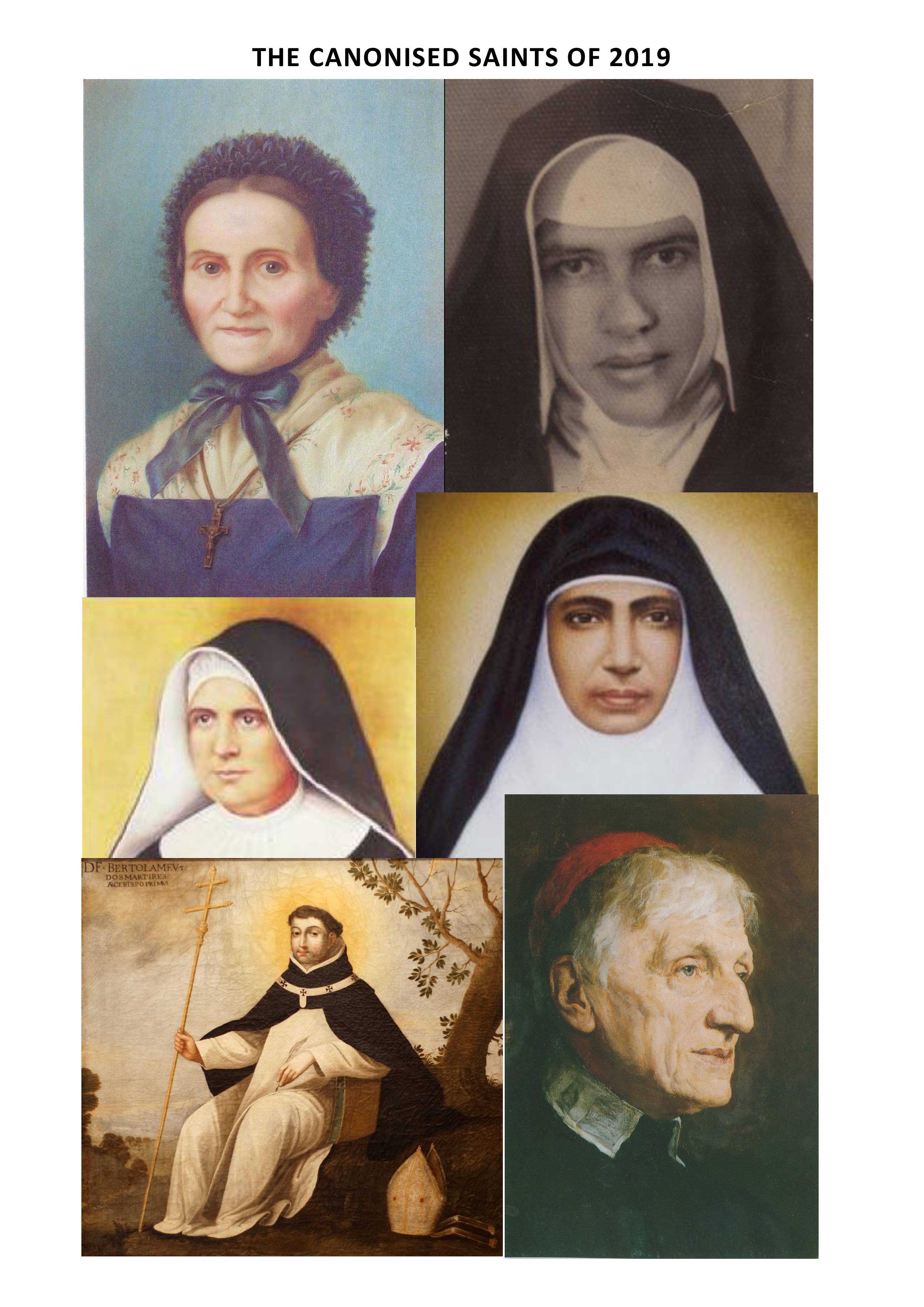 Marguerite Bays b. 1815 in Fribourg, Switzerland. She came from a large farming family, who were devout Catholics but had many domestic problems. Her sister divorced, at a time when it was a huge stigma, her brother was sent to prison for violence, and her elder brother had a child out of marriage. Marguerite took care of the child, despite much hostility & ridicule from the birth mother. Marguerite had great compassion for the poor and offered her skills freely to them. She became a member of the Secular Franciscan Order. At the age of 38 she developed bowel cancer which was considered to be inoperable, but from which she was cured after praying intently to the Virgin Mary. She had ecstatic experiences in prayer, and received the marks of Christ's wounds in the stigmata. She died in 1879, by which time she was aged 63 years.
Dulce Pontes b. 1914 in Bahia, Brazil. She entered Religious life aged 18 years, intending to serve in the poor areas of her neighbourhood which had deeply shocked her since her teenage years. She founded the "São Francisco Worker's Union", the first Christian worker's movement in Bahia. Determined to house sick people who came to her for help, in 1939 Sister Dulce started to shelter them in abandoned houses. The authorities opposed her, and she then opened her convent to become a hostel, which eventually became the Hospital Santo Antonio, the centre of a medical, social and educational complex which continues to open doors for the poor throughout Brazil. The hospital developed into the organisation known as OSID (Obras Sociais Irmã Dulce), and is one of the most well-known and respected philanthropic organizations in Brazil. In 1988 she was nominated for the Nobel Peace Prize. She died in 1992, aged 72 years, after years of bad health.
Giuditta Vannini b. 1859 in Rome. Both her parents died when she was a child, and she was separated from her siblings and sent to an orphanage. She tried to enter a Religious Order, but was rejected because of bad health, and so she formed her own congregation to care for the sick – the Daughters of St Camillus. She died in 1911, aged 55 years. Her congregation now has over 800 members religious in nearly 100 houses all over the world, including Benin and Burkina Faso in Africa.
Mariam Thresia Chiramel b. 1876 in Thrissur district, India. Born into a rich family that had lost all its wealth, she was a very devout child who made a private vow to remain chaste. Her father and many others were convinced she was out of her mind, and she was subjected to many exorcisms at the instigation of the local bishop. She received the stigmata, the wounds of Christ in her late 20's. In 1914 she founded the Religious Congregation of the Holy Family. She died in 1926, aged 50 years, after a tragic accident.
Bartholomew of Braga b. 1514 near Lisbon, Portugal. At the age of 13 years he entered the Dominican Order and quickly showed his academic abilities by becoming a respected teacher and later the Archbishop of Braga. Along with St Charles Borromeo, he was instrumental in the Council of Trent, the Catholic Church's response to the Protestant Reformation that was sweeping Europe. He made significant contributions, in particular to the reform of the moral lives of priests and people, but was widely admired as charitable & merciful. He died in 1590, aged 76 years.
John Henry Newman b. 1801 in London. As a teenager he was an evangelical Christian and studied at Trinity College, Oxford. He went on to be a fellow of Oriel College and was ordained as a priest in the Church of England. He was vigorously anti-Catholic, but along with a number of academics who formed the "Oxford Movement" he gradually began to develop a deeper understanding of the living tradition of the "Apostolic" church. His conversion to Catholicism at the age of 44 in 1845 was shocking to British society where anti-Catholicism was still rife. His scholarly influence on the Catholic Church in Britain & Ireland was, and still is, substantial. In 1854 he became the rector of the newly established Catholic University of Ireland – at a time when few Catholics could barely dream of tertiary education. He wrote enormous quantities – from learned books to newspaper articles, and indeed letters to the huge number of people whom he corresponded with – and left an enormous legacy that inspires peoples of all faiths even today. He was well ahead of his time, prophetic and holy.