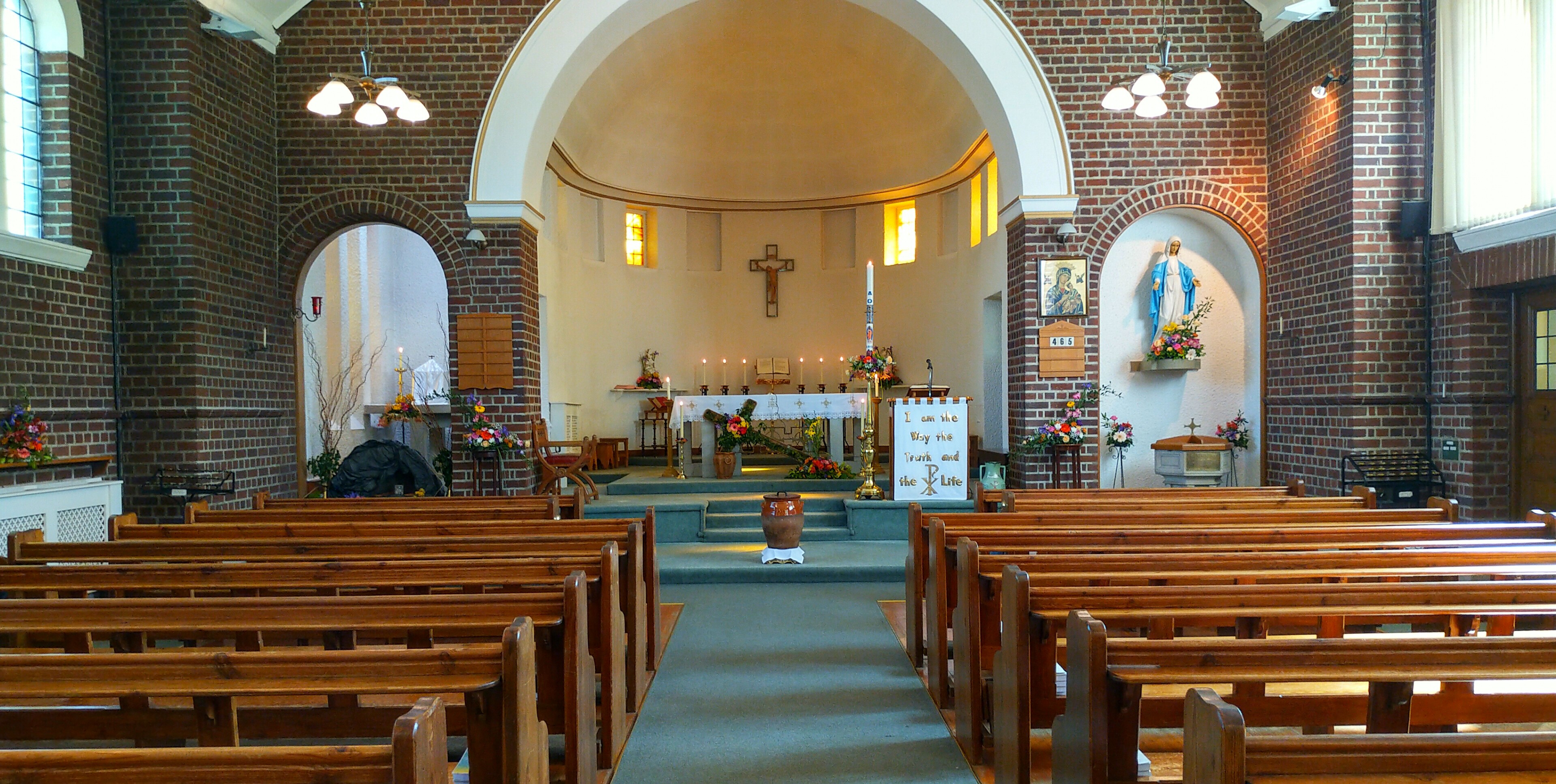 Ordinary Time Week 20

 – Year C
Saturday 17th August
9:15 am Mass – Feria – Yorkshire Brethren followed by CONFESSIONS until queue finishes
6:30 pm 

Vigil Mass

 – Sick Person [Joyce Hattersley]
Sunday 18th August – 20th Sunday in Ordinary Time – Crowning of the statue of Our Lady
  10:00 am 

Mass

 – Elizabeth Walden [RD]
Monday 19th August
Tuesday 20th August
7:15 pm Divine Mercy Chaplet
7:30 pm Mass – St Bernard [Memorial] – Private Intention
Wednesday 21st August
9:15 am Mass – St Pius X [Memorial] – Ethel Nolan [A]
7:30 pm

Novena to our Lady of Perpetual Succour & Benediction

[

9

] Please write petitions & place in box on arrival.
Thursday 22nd August
9:15 am Mass – The Queenship of Mary [Memorial] – Marjorie & Sidney Phizackerley [A]
Friday 23rd August
9:15 am Mass – Feria – Eileen McKinney [RD]
Saturday 24th August
9:15 am Mass – St Bartholemew [Feast] – Yorkshire Brethren followed by CONFESSIONS until queue finishes
2:00 pm Wedding
6:30 pm 

Vigil Mass

 – Martin Neary [RD]
Sunday 25th August – 21st Sunday in Ordinary Time
Please Pray for
Alan Bland [RIP 29th July] 
whose funeral service will take place in
Rawdon Crematorium Chapel 
Tuesday 20th August, 2:20 pm 
Eternal rest grant unto him, O Lord,
and let perpetual light shine upon him.
May he rest in peace.  Amen.
Upcoming Dates & Information to Note
Our World Challenge Youth 

➞

Dominic and

➞

Oliver are doing a sponsored climb of the 3 Peaks on August 19th to raise money for their expedition to India – during which they will assist with a community rural project, as well as climbing Stok Kangri – If anyone would like to sponsor them, there is a sponsorship form on the Church Notice board.
Tea/Coffee & Bacon Sandwiches after every Sunday 9:30 am Mass, excluding August [Parish Centre]

➞

 

Food Bank Donations can be left in the church porch throughout the year – toiletries are also much appreciated.
August [

Sundays

] : Mass will be at 10am ONLY for the duration of the month
Wednesdays 7:30 pm – Novena to Our Lady of Perpetual Succour & Benediction continuing weekly, ending on Wednesday 21st August, eve of the Feast of the Queenship of Mary.
  5th September [Thursday] : Toddler Group re-opens – 9 am [Parish Centre]
7th/8th September [Saturday/Sunday] : Father Richards last weekend as our Parish Priest.
20th September [Friday] : St Josephs Theatre Group – 'The Black Emerald' Tickets £5, available from Mrs Mortimer – 7:30 pm [Parish Centre]
29th September [Sunday] : SVP Sponsored Walk 12:30 noon [Wetherby]
Volunteers Needed
Mothers Group – New members needed to support future events.  More information 

➞

 Mrs Mortimer
SVP – New members are the lifeblood – are you interested in giving your time to help others? 

➞

 Mrs Mortimer
Church Cleaning – Can you give the commitment of one hour every 7 weeks? please contact 

➞

 Mrs Mortimer
Thought for the Week
Few of us like to be unpopular or stand up & be counted,
even when principles are at stake
& our voice needs to be heard.
We are part of the silent majority
lacking moral the moral courage to speak out.
As followers of Christ, we have to face the fact
that sometimes conflict & tension are unavoidable.
He never promised that our journey would be without its crosses.
They are the inevitable part of being a Christian.